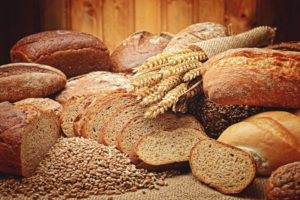 Psalm 122:1 A Song of Ascents. Of David. I was glad when they said to me, "Let us go into the house of the Lord." 
Psalm 84:1 To the Chief Musician. On an instrument of Gath. A Psalm of the sons of Korah. How lovely is Your tabernacle, O Lord of hosts! …10 For a day in Your courts is better than a thousand. I would rather be a doorkeeper in the house of my God Than dwell in the tents of wickedness. 
Our Lord's Days are very special and a delight to us.  Rather than separate activities (or services) we see our time together as one assembly in the presence of Christ. We joyfully invite you to come and spend some time with us. All things done in our assemblies have the express purpose of glorifying God and of building up the whole church.  1 Cor 14:26 What then, brothers? When you come together, each one has a hymn, a lesson, a revelation, a tongue, or an interpretation. Let all things be done for building up.
Here is a blog post on why the assembly of the church is an irreplaceable means of grace. Click HERE to read the post.  And here is a short series on the assembly of the church. Click HERE to listen to the series.
The Lord's Day
The Lord's Day (which is the first day of the week – Matt 28:1, Acts 20:7, 1 Cor 16:1-2, Rev 1:10), is the day set aside by our Lord for the assembling of the church in his presence. There is no better place to be than to be with the church on the Lord's Day (Psalm 84:10). It is our highest honor to come together to offer up spiritually acceptable sacrifices (1 Peter 2:10).
Our assemblies are a time of joy, of praise, of thanksgiving, of feeding on his word, of encouragement, of comfort, of upbuilding and of love. Our blessed assemblies were designed, ordained and regulated by Christ, from his word, for our enjoyment and his glory.
Our assemblies are a time of love and joy between Christ and his church. He brought me to the banqueting house, and his banner over me was love (Song of Solomon 2:4).  There should be no greater pleasure or joy than to be with Christ and his people on the Lord's Day.  Psalm 122:1 I was glad when they said to me, "Let us go to the house of the LORD!"
Assembly Schedule 
10:00 AM Assembly Begins
11:45-12:00 PM  Fellowship Break
12:15-1:30 PM Discussion and Communion
1:30 PM – 2:30 PM Fellowship Luncheon
2:30 PM – 3:30 PM Afternoon Encouragement
What to Expect at Our Assemblies
As Christ is Lord over his church, our assemblies are regulated by the word of God. Our desire is to only do the things God prescribes in his word for the assemblies of his people.  We all assemble together in one place, pray, sing psalms, hymns and spiritual songs (Eph. 5:19, Col. 3:16), read and hear the preaching of the word (2 Tim 2:4), take communion (1 Cor 11), encourage, exhort and edify one another (1 Cor 14), praise and thank the Lord (Psalm 100), and stir one another up to love and good works (Heb 10). As the Lord provides, we will conduct baptisms of new disciples.
We believe in expositional preaching through all of the Bible. Our sermons last about an hour. Our morning worship generally lasts 90 minutes.  Our Discussion Time is more topical and lasts about an hour. The afternoon worship includes singing, prayer and an encouraging message and lasts about an hour in full.  We assemble as those who have already been saved by faith in Christ alone (John 5:24). The purpose of hearing the word of God is that we, by his grace alone, learn to love God and keep his commandments (Deut 4:10, Ecc 12:12-13: Matt 28:18-20) .
We partake of the Lord's Supper every Lord's Day and all believers are welcomed and encouraged to partake. This serves to remind us of Christ's sacrifice for our sins and that we are one body in Christ (1 Cor 11). Every time we take communion, we proclaim the Lord's death until he comes.
If you do not believe in Christ, or if you are bringing someone who does not believe in Christ, we share and speak of the gospel every assembly. We believe that evangelism occurs according to God's will and purpose, when we assemble in the prescribed manner found in God's word (1 Cor 14:23-25)
The Priority of Unity
Unity in the body is a very high priority in God's word, particularly when the church assembles in his presence. 1 Cor 1:10 I appeal to you, brothers, by the name of our Lord Jesus Christ, that all of you agree, and that there be no divisions among you, but that you be united in the same mind and the same judgment. We believe that unity takes priority over other objectives such as evangelism and education on the Lord's Day when the church assembles. (See 1 Cor 11, 12, 13, 14, Heb 10, 1 Peter 2). Consequently, we do not separate from each other during our time together.
God's plan to evangelize the lost, when the church is assembled, is given in 1 Cor 14:23-25. Paul taught that if the church is not unified when it meets, it would be better it not assemble at all. (See 1 Cor 11) Once again, we fall short of God's standard but are praying for and seeking biblical unity in our church, in part by assembling in a manner consistent with the teaching of Scripture.
Psalm 133:1 Behold, how good and pleasant it is when brothers dwell in unity! 2 It is like the precious oil on the head, running down on the beard, on the beard of Aaron, running down on the collar of his robes! 3 It is like the dew of Hermon, which falls on the mountains of Zion! For there the LORD has commanded the blessing, life forevermore.
Dress and Appearance
We have no dress code or standard beyond the Biblical principles of modesty. As believers, we are already clothed in the righteousness of Christ.  Isaiah 61:10 I will greatly rejoice in the LORD; my soul shall exult in my God, for he has clothed me with the garments of salvation; he has covered me with the robe of righteousness, as a bridegroom decks himself like a priest with a beautiful headdress, and as a bride adorns herself with her jewels.  Rather, we encourage all who attend, who are justified by faith alone, to be clothed in good works. Titus 2:14 (CHRIST) who gave himself for us to redeem us from all lawlessness and to purify for himself a people for his own possession who are zealous for good works. 
Families in Our Services
As the church is one body in Christ (1 Cor 12), it is our desire and joy to remain together. We gladly welcome all people of all ages. If you would like assistance with very young children, we would be glad to help. We do not mind, and fully expect that young children will make noises and need to stretch their legs from time to time.   Children are always welcomed in our assemblies.
When the disciples tried to prevent little children from being brought into the presence of Christ, he corrected them. Then children were brought to him that he might lay his hands on them and pray. The disciples rebuked the people, but Jesus said, "Let the little children come to me and do not hinder them, for to such belongs the kingdom of heaven."  (Matthew 19:14)  We love children and have no desire to see them separated from their families or from the congregation on the Lord's Day.
Please note that we are not part of any movement in the church today with regards to our assemblies. We simply see no commandment, teaching, principle or example of behavior in God's word, whereby the church would separate itself up into age-segregated groups. We believe that the practice of separating the church into various groups (while it is still present on the campus) is actually counter to the teaching of Christ and the Apostles on the oneness of the body of Christ and the necessity of fostering unity. The time for the training of individual disciples or evangelism is when the church is not assembled. As part of the Great Commission, we joyfully evangelize and train disciples throughout the week.  Having been separated all week, it is our joy and privilege to assemble in the presence of Christ, on the Lord's Day as one body. We see no need and have no desire to separate quickly.
The Lord created the Lord's Day (or Sabbath day), in part, that his people would assemble in his presence, that he would bless us by his word and Spirit. We hope that you would come and spend a day with us, and be encouraged in the presence of Christ. It is a time for the body of Christ to enjoy the delights of our God together.
Psalm 36:7 How precious is your steadfast love, O God! The children of mankind take refuge in the shadow of your wings. 8 They feast on the abundance of your house, and you give them drink from the river of your delights. 9 For with you is the fountain of life; in your light do we see light.
Unless otherwise cited, Scripture quotations are from The Holy Bible, English Standard Version ® (ESV ®), copyright © 2001 by Crossway, a publishing ministry of Good News Publishers. Used by permission. All rights reserved.